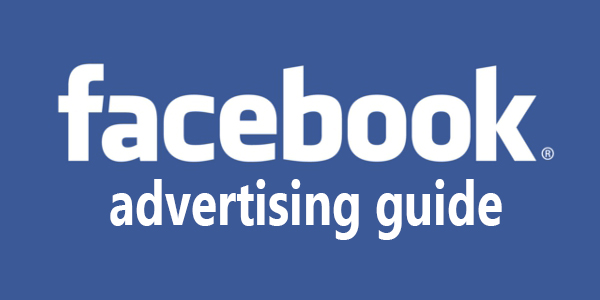 You may love or hate Facebook, but surely it has gained its place in the marketing mix of small business owners. However, despite Facebook's continuous efforts to drive more businesses to the platform, the information available to potential advertisers is somewhat confusing. This is why this post is a starter's guide to Facebook advertising, explaining the difference among all the different ad formats.
Facebook Advertising
1. Domain Ads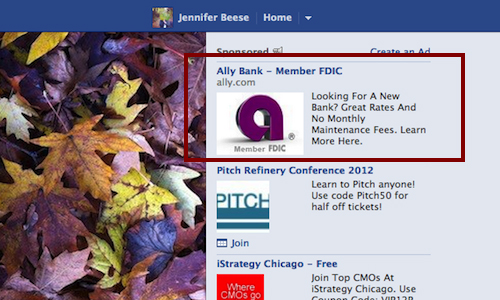 These ads are the standard solution for advertisers. They run on the right-hand side of the screen on any Facebook page. This type of had can feature up to 25 characters for the headline and 90 for the content. Images are limited to just 99 x 72 pixels, therefore pay attention to readability, if you intend to place some call to action in the image.
2. Page Like Ads
Page Like Ads are not very different from domain ads. However, their purpose is to direct Facebook users to Facebook Pages, Apps, or Events instead of external domains. The specs (characters, picture size) don't differ from domain ads, except for the headline, that that cannot be edited as it correspond to the name of the Facebook Page, App or Event you are advertising. This is limited to 35 characters.
3. Page Post Ads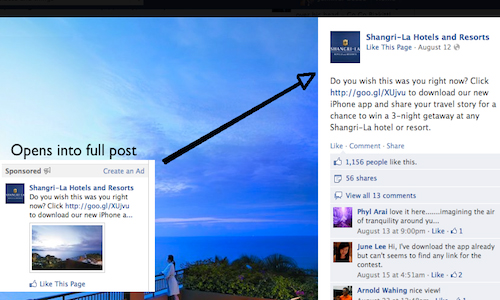 Page Post Ads are probably the best way to engage users and direct them to Facebook Pages. This format allows advertisers to use any "object" they have already posted on their Facebook page and turn it into an ad. In fact a page post ad can be any of the following:
Page post text ad
Page post photo ad
Page post video ad
Page post link ad
Page post question ad
Page post offer ad
Page post event ad
Page Post Ads are limited to 120 character limit. In case your post text was longer than 120 characters, Facebook will only show the first 120 characters and add three small dots.
Page post ads can also be created directly through the "Promoted" button when posting something.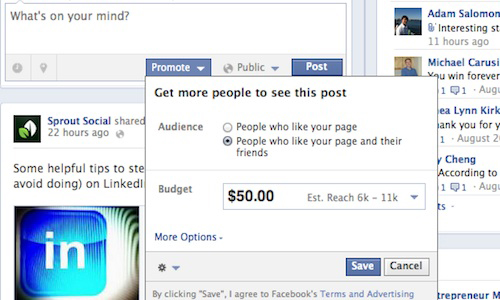 The way the ad is displayed also depends from the target audience, as non-fans will see a "Like" button and will be able to like the page directly from the ad. Current fans instead will see a sponsored story. What is a sponsored story? Read below.
4. Sponsored Stories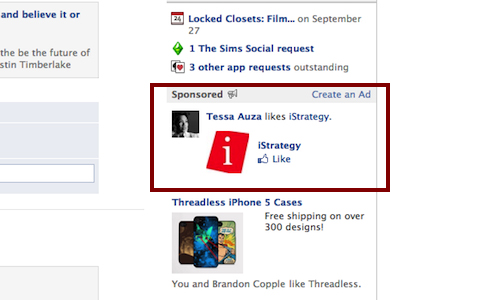 Sponsored stories are probably the trickiest format to understand. So-called (by Facebook) also "voice of friend", they show users their friend's interaction with the advertising brand. They always include the friend's profile picture and their name, along with the action they performed.
This is an extract of how they work (from Facebook Education Resources):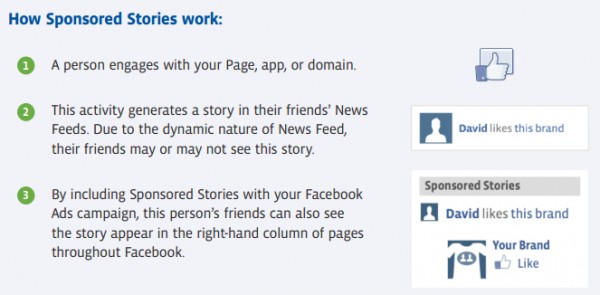 Sponsored stories are displayed only to the friends who took one of these actions:
Liked a Page or a Page post in the last 7 days
Checked into a place or claimed a deal in the last 7 days
Used an app/played a game twice or for >10 min in the last 30 days
Shared an app in the last 14 days
Liked, shared, or posted content from your domain in the last 7 days
You can target mobile-only, desktop-only, or just news feeds.
6. Facebook Offers
Facebook Offers are a relatively new format that allows local businesses (and more) to advertise coupon codes directly to potential customers. In order to access the discount code, fans have to "claim" the offer by clicking the relevant button. Despite being free to create, their reach is limited, unless advertisers pay for it (surprising, huh?), by turning it into a page post offer ad, like any other page post. Unless promoted, offers only appear in a small share of fans' news feeds. And their friends will only see it if the offer is claimed.
All the above ad formats can be split between two main categories: Facebook ads and sponsored stories. The bid mechanism is similar to Google Adwords, as the CPC or CPM (cost per thousand impressions) advertisers are charged is determined by a Vickrey auction.
See also : 5 New Ways to Improve Your Facebook EdgeRank
Hope this starter's guide will be of use to you. If you have any questions, hit me up with questions by commenting below. Good luck!
http://onlineincometeacher.com/socialmedia/facebook-advertising-guide/
Author: Daniel Nathan